CBF OK selects next Coordinator
Steve Graham, Coordinator
sgraham@cbfok.org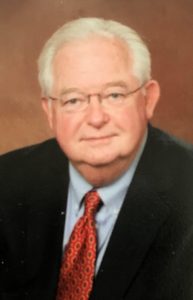 Dr. Graham is a native Oklahoman, born in OKC and raised in Alva and Enid. He has served on church staffs in Fairview, OK, Hereford, TX, Dallas, TX and Shawnee, OK. Steve served also as Pastor at First Baptist Church of Fairview, Spring Creek Baptist Church in Oklahoma City, and Second Baptist Church in Liberty, MO.
Prior to accepting his position as Coordinator for the CBF of Oklahoma, Steve spent five years as Director of Ministerial Excellence for the Cooperative Baptist Fellowship resource center in Atlanta. His primary focus during those years had been connecting ministers and lay leaders to peer learning groups through the Initiative for Ministerial Excellence. Under Steve's leadership, the network grew to more than a hundred and thirty peer learning groups consisting of more than one-thousand participating ministers. Beyond this, Steve has worked also to develop annual retreats and workshops to enrich and renew pastors.
Steve is married to Jennifer Lackey Graham and they have two adult children, Jeffrey and Whitney. Dr. Graham holds degrees from Oklahoma Baptist University (B.A.), Southwestern Baptist Theological Seminary (M.Div.), and Midwestern Baptist Theological Seminary (D.Min.).
Kristin McAtee, Associate Coordinator
KristinMcAtee6@gmail.com
Kristin is a native Oklahoman, raised in the OKC metro area. She has served on church staffs in California and in Oklahoma in the areas of music, education, children and administration.
Most recently, Kristin served at First Baptist Church of Oklahoma City as Minister for Administration and Children. Her work involved leading a children's ministry, working with partners in the community and those who utilized the historic facility, and administering the daily operations of the church. During her time there, Kristin welcomed six diverse congregations and a private school as tenants at OKC. For five years, Kristin led a kids club at a local park in OKC, building relationships with families and the community. Over the 13 years that she led Kids Off Broadway, a week-long music camp, attendance increased from 40 to 100. Kristin has served on several non-profits including the MidTown Board of DowntownOKC, CBF Ministries Council, and Global Women as President of the Board. She has also worked as Development Director at Good Shepherd Clinic. Kristin has extensive experience leading mission exploration teams overseas and at home. One of Kristin's joys is creating partnerships to further Kingdom work and she looks forward to many new and interesting relationships through CBFO.
Kristin is married to Brian and they live with his daughter, Danielle, and a dog named Sophie in Midwest City. Kristin holds degrees from California State University, Long Beach and Golden Gate Baptist Theological Seminary.
2019-20 Coordinating Council

Officers
Bob Searl – Moderator (Spring Creek Baptist Church, OKC)
Cheryl Tarter – Moderator-Elect (Spring Creek Baptist Church, OKC)
Tiffany Noble – Recorder (First Baptist, Norman)
Phil Moss – Treasurer (First Baptist, Norman)
Dan Hobbs – Parliamentarian (NorthHaven, Norman)
Terms Expiring in 2021

Richard Anthony – (Grace Fellowship, Norman,)
Wil Brown – (American Indian Baptist Church , Hobart)
Dan Hobbs – (First Baptist Church, Norman)
Karlee Marshall – OU Student Intern
Phil Moss – (First Baptist Church, Norman)
Tiffany Noble – (First Baptist Church, Norman)
Joe Bob Weaver – (First Baptist Church, Norman)
Terms Expiring in 2022
Grace Anthony – (Grace Fellowship, Norman)
Darryl DeBorde – (Braden Park, Tulsa)
David Lee – (Watonga Indian Baptist Church, Watonga)
Kristin McAtee – (CBF Oklahoma)
Carrie Nault – (Northwest Baptist Church, Ardmore)
Bob Searl – (Spring Creek Baptist Church, OKC)
Jakob Topper – (NorthHaven, Norman)
Kathy Hoppe – (First Baptist Church, Tulsa)
Terms Completing in 2023
Don Gilmore – (First Baptist Church, Norman)
Cheryl Tarter –(Spring Creek Baptist Church, OKC)
Cornelius Wade – (St. John Missionary Baptist Church, OKC)
Abigail Thant – (First Baptist Church, OKC)
Lisa Raiber – (First Baptist Church, Norman)
Monty Klepper – (Spring Creek Baptist Church, OKC)
Pamela Duncan – (NorthHaven, Norman)
Larry Stevens – (Spring Creek Baptist Church, OKC)