Steve Graham, Coordinator
sgraham@cbfok.org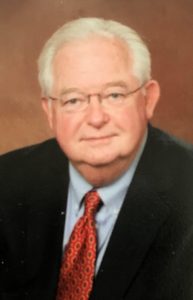 Dr. Graham is a native Oklahoman, born in OKC and raised in Alva and Enid. He has served on church staffs in Fairview, OK, Hereford, TX, Dallas, TX and Shawnee, OK. Steve served also as Pastor at First Baptist Church of Fairview, Spring Creek Baptist Church in Oklahoma City, and Second Baptist Church in Liberty, MO.
Prior to accepting his position as Coordinator for the CBF of Oklahoma, Steve spent five years as Director of Ministerial Excellence for the Cooperative Baptist Fellowship resource center in Atlanta. His primary focus during those years had been connecting ministers and lay leaders to peer learning groups through the Initiative for Ministerial Excellence. Under Steve's leadership, the network grew to more than a hundred and thirty peer learning groups consisting of more than one-thousand participating ministers. Beyond this, Steve has worked also to develop annual retreats and workshops to enrich and renew pastors.
Steve is married to Jennifer Lackey Graham and they have two adult children, Jeffrey and Whitney. Dr. Graham holds degrees from Oklahoma Baptist University (B.A.), Southwestern Baptist Theological Seminary (M.Div.), and Midwestern Baptist Theological Seminary (D.Min.).
2018-19 Coordinating Council

Officers
Don Gilmore – Moderator (First Baptist, Norman)
Lacy Kendrick – Moderator-Elect (Spring Creek Baptist Church, OKC)
Zac Stevens –Past Moderator (NorthHaven, Norman)
Micah Groves – Recorder (NorthHaven, Norman)
Dan Hobbs – Parliamentarian (NorthHaven, Norman)
Terms Expiring in 2019

Julian Guerrero – Deyo Mission (Lawton, OK)
Paul Kent – First Baptist Church (Tulsa, OK)
Marva Morris – Spring Creek Baptist Church (OKC)
Lisa Raiber – First Baptist Church (Norman, OK)
Bryan Royse – Spring Creek Baptist Church (OKC)
Zac Stevens – NorthHaven (Norman, OK)
Allison Terrill – First Baptist Church (Tulsa)
Terms Expiring in 2020

Suzi Boydston – Spring Creek Baptist Church (OKC)
Joey Clifton – First Baptist Church (OKC)
Don Gilmore – First Baptist Church (Norman, OK)
Micah Groves – NorthHaven (Norman, OK)
Cheryl Tarter – NorthHaven (Norman, OK)
Jan Tipton – First Baptist Church (Shawnee, OK)
Cornelius Wade – St. John Missionary Baptist Church (OKC)
Jodi Williams – Northwest Baptist Church (Ardmore, OK)
Terms Expiring in 2021

Richard Anthony – Grace Fellowship (Norman, OK)
Wil Brown – American Indian Baptist Church (Hobart, OK)
Dan Hobbs – First Baptist Church (Norman, OK)
Lacy Kendrick – Spring Creek Baptist Church (OKC)
Karlee Marshall – OU Student Intern
Phil Moss – First Baptist Church (Norman, OK)
Tiffany Noble – First Baptist Church (Norman, OK)
Joe Bob Weaver – First Baptist Church (Norman, OK)