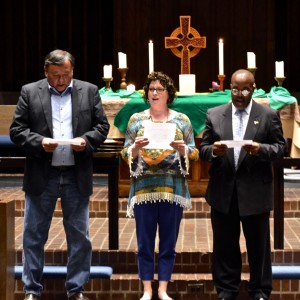 The Cooperating Baptist Fellowship of Oklahoma can be spoken of in four parts:
1. Cooperating: In Baptist polity, every church and every  entity stands autonomous, capable of choosing its own leaders and adopting its own policies and procedures. In this autonomy, there is freedom; however, mosts Baptists see the benefits of working together rather than in isolation. By cooperating, we can accomplish more together than on our own.
2. Baptist: Early in the 1600s, the Baptist denomination was born. Conflict and persecution in Europe led our foremothers and forefathers to espouse and hold on to what have become known as the Baptist Distinctives, or Four Fragile Freedoms.
Soul Freedom – We believe in the priesthood of all believers. We affirm the freedom and responsibility of every person to relate directly to God without the imposition of creed or the control of clergy or government.
Bible Freedom – We believe in the authority of Scripture. We believe the Bible, under the Lordship of Christ, is central to the life of the individual and the church. We affirm the freedom and right of every Christian to interpret and apply scripture under the leadership of the Holy Spirit.
Church Freedom – We believe in the autonomy of every local church. We believe Baptist churches are free, under the Lordship of Christ, to determine their membership and leadership, to order their worship and work, to ordain whomever they perceive as gifted for ministry, and to participate as they deem appropriate in the larger Body of Christ.
Religious Freedom – We believe in freedom of religion, freedom for religion, and freedom from religion. We support the separation of church and state.
3. Fellowship: The CBF of Oklahoma is not a convention of Churches; rather, it is a fellowship including both individuals as well as churches and other institutions. There are a number of people in Oklahoma who partner with us, but do not belong to a CBF affiliated church.
4. of Oklahoma: Even before its incorporation in 1992 critics have asked, Why does Oklahoma need another Baptist body? Put simply, the CBF of Oklahoma provides a moderate Baptist presence and voice that neither the SBC or BGCO can offer. This includes but is not limited to:
freedom in both biblical interpretation and congregational governance,
the participation of women and men in every aspect of church leadership and ministry
and religious liberty for all people, whether Christian or not.
Read more about the Fellowship on these pages: